The university was founded as a branch of the University of Garyounis (now known as the University of Benghazi) in the year 1989. In 1992, it became an autonomous institution and was then known as Al-Tahaddi University but was later re-named as Sirte University in 2010.
Since then, it gained its autonomous status, the university has been continuously expanding and has become one of the well-recognised higher education institutions in Libya. Starting off with a few schools and academic departments, the university has at present 11 different schools on and off-campus in different cities and towns such Ehrawa and Zamzam and with a total number of 8261 students.
The university currently employs about 650 full-time teaching staff and 1160 non-academic staff in different departments and offices across the university.
The university is also trying to enhance self-learning and research culture among its students by building a new and comprehensive library with more than 100000 resource materials. The university has established a Languages Centre in a hope of improving the standards of English language among its students. The Languages Centre is also aimed to provide pre-sessional English courses for students who have been awarded scholarships to do their masters and PhD degrees abroad.
Moreover, as part of its on-going plan of expansion, the university is currently undertaking major construction projects. One of these projects is to build a University City with up-to-date facilities and equipments in order to improve the learning environment for the students which would help them perform better and achieve higher standards.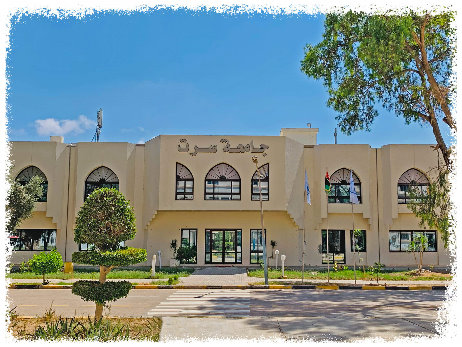 P O Box (674) Sirte/ Libya– Phone: 5265704/5260360/ 054 - Fax: 5262361-054
Email:
This email address is being protected from spambots. You need JavaScript enabled to view it.
Web Site
www.su.edu.ly